Sertifikaadid

Highest quality production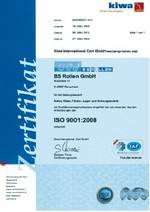 Responsibility = quality and trust BS
BS Rollen products must prove themselves daily in many industrial applications, which is why our customers rightly demand the very highest quality... as we do also. We not only check and test everything ourselves but also cooperate closely with Bielefeld Technical University. They can test all relevant technical products according to DIN EN 12527 and DIN EN 12533 as well as testing parts according to the DIN EN 1004 and DIN EN 840 norms.

Their Competence Centre for Movement Processes (KFB) is a customer orientated, neutral centre whose experts offer testing of wheels, rollers and housings as well as a large number of other technical movement systems. New ideas and trends are mutually developed and made marketable.

Right from the start we've understood quality to be the most important fundament of our business, which is why we're certified at DIN ISO 9001: 2008. That's how we can guarantee constant highest quality so that you can put your trust in us.